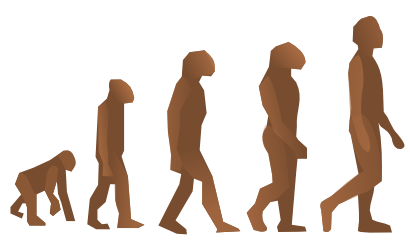 Perhaps not.
Have a read of this extract from Alvin Plantinga's entry on Religion and Science in the Stanford Encyclopedia of Philosophy (dealt with at more length here):
In crafting our cognitive faculties, natural selection will favor cognitive faculties and processes that result in adaptive behavior; it cares not a whit about true belief (as such) or about cognitive faculties that reliably give rise to true belief. ... What our minds are for (if anything) is not the production of true beliefs, but the production of adaptive behavior: that our species has survived and evolved at most guarantees that our behavior is adaptive; it does not guarantee or even make it likely that our belief-producing processes are for the most part reliable, or that our beliefs are for the most part true. That is because our behavior could perfectly well be adaptive, but our beliefs false as often as true. Darwin himself apparently worried about this question: "With me," says Darwin, "the horrid doubt always arises whether the convictions of man's mind, which has been developed from the mind of the lower animals, are of any value or at all trustworthy. Would any one trust in the convictions of a monkey's mind, if there are any convictions in such a mind?" (Darwin 1887) ...

Now naturalism entails that evolution, if it occurs, is indeed unguided. But then, so the suggestion goes, it is unlikely that our cognitive faculties are reliable, given the conjunction of naturalism with the proposition that we and our cognitive faculties have come to be by way of natural selection winnowing random genetic variation. If so, one who believes that conjunction will have a defeater for the proposition that our faculties are reliable—but if that's true, she will also have a defeater for any belief produced by her cognitive faculties—including, of course, the conjunction of naturalism with evolution. That conjunction is thus seen to be self-refuting. If so, however, this conjunction cannot rationally be accepted, in which case there is conflict between naturalism and evolution ...